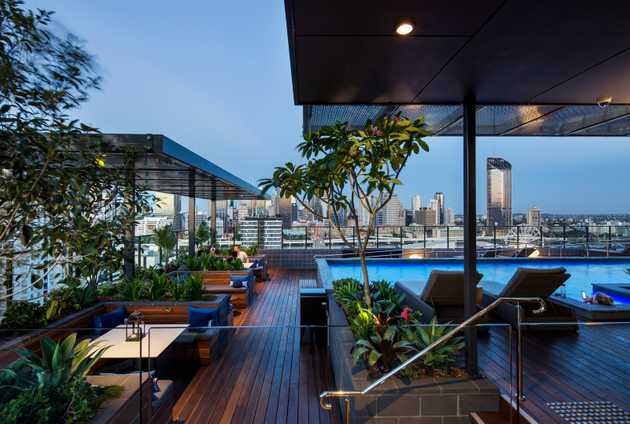 To stand out in the high-density residential market, developers have begun to design buildings with a complete resident lifestyle in mind. This is done by incorporating shared private spaces into a building. Spaces such as cinemas, coworking spaces, and dining rooms. It's not just about delivering a unit to live in, but also a place where the residents can socialise while enjoying the rooftop views, invite a group of friends to a private dinner or watch their favourite TV show on a big screen with their family and friends. 
These facilities, open only to residents and their guests, are a great way to achieve a sense of exclusivity for those living within the building. They can also be a cost-effective way to add value to each lot in a development. In turn, the addition of quality amenities can help attract more customers looking for not just a place to live, but a luxury lifestyle.
These next-generation spaces becoming more prominently desired by investors and owners alike in that they provide a level of quality unparalleled with older development shared spaces. The initial generation of spaces were an extension of unmanaged rooftops. These were simply areas of a larger communal space with a projector or a dining table. The spaces had little to no privacy and were managed on a first come first serve basis. We will go into more detail as to why, but these design decisions resulted in extremely poor utilisation of the spaces.
This next generation of shared spaces are built differently. They are private, high quality, well managed, delivering an experience unobtainable in more traditional apartment buildings or houses. It's difficult to find a substitute for hosting a party for friends in a private dining room on the 30th-floor of a high-rise apartment that has a panoramic city view. 
These spaces are made possible through the use of technology which ensures they are easily accessible, well maintained, private and reliable. Spaces designed to follow these guidelines have great utilisation, achieving almost 75%+ utilisation on the weekends. 
In this article, we'll explore the basic design and operational considerations that ensure your facilities are popular, enjoyable, and easy to use.
The Resident Experience
An enjoyable resident experience should be the foremost concern when designing shared facilities. You need to consider how these facilities will be used as part of the design stage, thinking carefully about how a resident will engage with the space, system, and the why. 
Dining Room
Sally wants to invite her friends around to celebrate her birthday, she enjoys a big gathering so she'd like to invite 15 friends. Sally wants to be able to reserve the shared dining room in her building far in advance to coordinate times with guests and ensure that there is enough space for everyone on the day. 
How does Sally go about making the reservation?
How does Sally make sure there is enough space for everyone?
How is the food prepared? It's difficult to cater to a large group with a normal kitchen.
On the day of the birthday, how do her friends get let up? 
After the party, how is the room left in a state where it's ready for the next person to use? 
Cinema
Jim wants to enjoy the finale of Wandavision on the big screen with his friends later tonight in his building's private cinema.
How Jim will book the private cinema
How does Jim put his show on the screen?
How does Jim ensure they're not interrupted once the show starts? 
What devices are set up to offer a streamlined viewing experience?
Overall
For Sally and Jim, the question is how can they reserve their spaces? Is a deposit required? For the user, booking should be straightforward. If you can order food, book an Uber and order tickets on your phone, the rooms within your buildings should be easily booked on their mobile. This system must be efficient and accurate at conveying information for bookings, availability, and cost (if applicable) to the user and the management team. 
The system must factor in human behaviour and the specific needs of the residents within your building. From our own user data, we have found cinemas are often booked several hours beforehand while dining spaces tend to be secured weeks in advance, so the unit spacing of the booking calendar presented should be different in each case. Cinemas and dining rooms are naturally private spaces that should be locked to only a single group at a time, other spaces like pools and gyms are first come first serve. Barbeques can be either but can benefit from booking as those spaces can be in high demand during holidays and summer weekends.
Design
The design of these spaces will determine how popular the rooms will be. Nobody wants to invite their friends to a space that's not equipped, large enough or comfortable. This comes back to designing the rooms with the resident in mind. A high-quality fit-out that better aligns with the needs of the resident means these spaces will be booked more often and justify additional charges for the space. 
Example Fitout: Cinema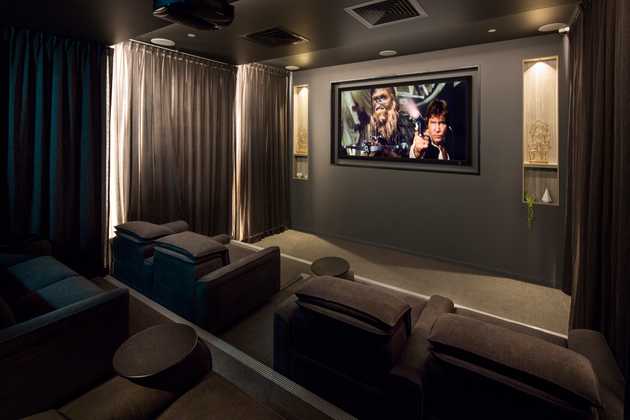 The private cinema at Aria's The Melbourne Residences building
A good cinema space needs to be private, comfortable, and easy to use, with a good amount of space to fit 8-12 people. Lighting also needs to be considered since the space should be dark to emulate a commercial cinema experience. 
When looking at what to do about a screen, there are various strengths and weaknesses between projectors or large flatscreen TVs.  Regardless of whatever is installed, there should be clear instructions on how to use the room and easily available HDMI inputs and powerpoints so residents can plug in their own media through their laptop or other devices. 
To go one step further, a Chromecast or Apple TV (the latest tv models from the main brands have these systems built-in by default) with a low-power wireless access point to allow casting will let residents access streaming services from the cinema room.
Example Fitout: Dining rooms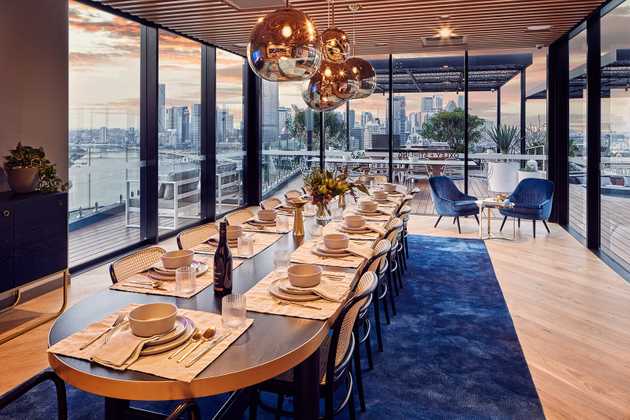 Dining Room at  Aria's Oxley & Stirling Residences 
A shared dining room in a modern luxury building needs to be spacious, comfortably accommodating a party of 15 to 20 people. Rooms should be fully equipped, with enough plates, cutlery and furniture to support maximum capacity. The dining room should have access to a full kitchen to let the residents prepare food efficiently without the need to ferry food to and from their apartment.
A private balcony and/or lounge with a view connected with the dining room enhances the dining experience, providing a space for visitors to relax before and after their meal. 
Operations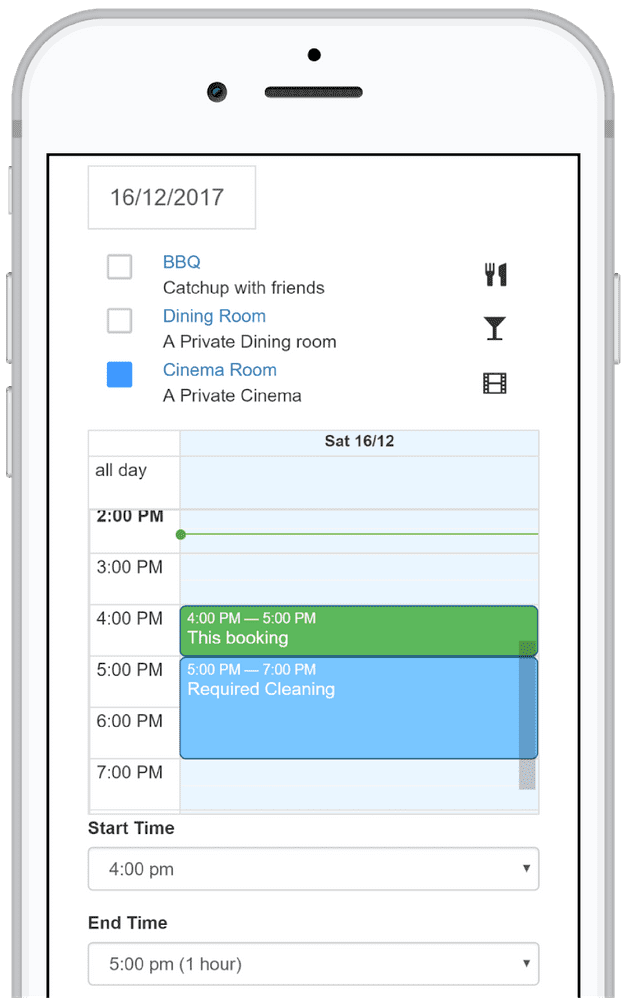 Management can make or break the user experience of shared spaces. Even for apartments with the highest quality facilities, if the process for accessing them isn't straightforward and user-friendly it will prevent room utilisation. 
Payment & Booking
Shared spaces inevitably come with an ongoing cost so a method of financing is required for upkeep. This can be done by either charging the user directly or indirectly via body corporate fees. Depending on the facility, the body corporate can source optional or mandatory service per booking, paid for by the user. If the specific facility requires a maintenance fee, this would justify a higher pay-per-use fee. 
Residents expect to be able to book and pay seamlessly via their phone, If you can use your phone to order a helicopter via an app you should be able to book your building's shared spaces. 
Bookings should be transparent, it can help people plan usage around things like maintenance and events. The time needed between bookings should be stated clearly and should automatically be reflected within the system and blocked out for other users. 
For example, if the body corporate demands a professional clean after each dining room booking; the time cleaning as well as the charge should already be automatically added and clearly stated before the resident sends the booking request. After the confirmation of a booking, the allotted time, including the clean, should automatically be shown as unavailable on the system calendar to any other subsequent users.
Access
Certain types of rooms should be kept locked. Cinemas and Dining rooms are naturally private spaces, having someone intrude is awkward for both parties and can take away from the enjoyment of the room. Other spaces like rooftop lounges and pools are naturally shared and shouldn't utilise booking. 
Keys are a common cause of friction with managing shared private rooms. The sharing of physical keys can be a headache for residents, building management and body corporates alike. The need to pick up and drop off the keys before and after bookings means a manager needs to be available, which can limit spontaneous bookings of facilities on public holidays or after hours - reducing utilisation. 
Automated access control provides the most reliable and convenient way to manage the shared spaces, where on booking a resident's own access card might automatically be given authorisation to access the facility. This allows for exclusive and spontaneous use while reducing the time required for management to help facilitate access. In addition, a streamlined keyless experience reinforces that the room is there for the resident's use, as it removes the feeling of asking for management permission to gain access to the space - making it more like it's part of their own apartment.
As an additional benefit, going keyless through access code or linking access to the resident's access card eliminates the chance of a room needing rekeying should the physical key get lost.
Addon Services
Addon services can add significantly to a building's luxury feel. Whether it be cleaning provided by an integrated hotel after room use or catering provided by one of the building's commercial restaurant tenants. These addon services help both unlock additional revenue sources for commercial tenants and help elevate the luxury experience for residents.
Conclusion
Private rooms can feel like an extension of your apartment if done well, delivering great resident experiences and a higher ROI for investors and residents. However, if you are going to include shared spaces in your apartments, make sure to always consider the needs of those who are using them. Good quality rooms that are easy to use will be used frequently, poor quality ones are a waste of space. 
If you would like help implementing a seamless living experience in your development speak to us.